A rebuilt branch of the Brooklyn Public Library is opening with a new feature: on the seven floors right above the library, there will be 49 affordable housing units.
Combining affordable housing and libraries is a win for both residents and the community at large, library staff and housing advocates say. It's a model that has been done in a few cities, including Boston and Chicago. This project, in the borough's Sunset Park neighborhood, is the first of its kind in New York City—and also marks the first new affordable housing developed in Sunset Park in more than 20 years.
The Sunset Park branch of the Brooklyn Public Library was last rebuilt in 1972, and was in desperate need of repair. Its air conditioner was broken, it included only 12 electrical outlets, and it had only 7,500 square feet that were available to the public (the entire branch was 12,200 square feet),
This was too small for how popular the branch was, library officials say; it ranked in the top 10 in terms of attendance out of 60 branches across the borough. It was "bursting at the seams," says Linda Johnson, president and CEO of the Brooklyn Public Library, "and was in very bad disrepair."
[Photo: Gregg Richards/courtesy Brooklyn Public Library]
But renovating a library is expensive. Branches across the Brooklyn, Queens, and New York public library systems collectively need more than $1 billion in repairs and upgrades. Building affordable housing is also costly. It's only affordable to do so, says Michelle de la Uz, executive director of Fifth Avenue Committee, a nonprofit that builds affordable housing and which partnered with the Brooklyn Public Library on the project, "when you have reasonably priced land, good financing conditions, a lot of subsidy, or a combination of all those things." In New York, though, the availability of government-owned land has been dwindling in recent years, she adds, "which makes it all the more difficult to address the affordable housing crisis that exists."
By combining affordable housing and a library renovation, the city could save money and build two new projects in one go. The Sunset Park library has now nearly doubled in size, to 20,000 square feet over three, the vast majority of which is publicly available space. Project costs for the library were $17 million (about half of what a similar project would normally cost); the residential portion cost $36.7 million. Johnson says if the library had tried to just invest money into the existing building to make repairs, "it would have been much more expensive and it would have yielded a smaller project." The library was completely rebuilt for the project.
Funding came in part from proceeds of another branch's property sale, capital funding from the city, from offices of local elected officials including the borough president, a construction loan, and Low Income Housing Tax Credits that covered the residential portion. The Fifth Avenue Committee paid for the core and shell of the branch, while BPL was responsible for its interior. "The neighborhood and all the residents are getting an incredibly expanded and modern public library for almost half the price of what it would have cost if it were a standalone space," says de la Uz. "You have one foundation that's being built, one excavation that's happening. The same four walls are supporting both the library and the residential portion above. It's a great combination."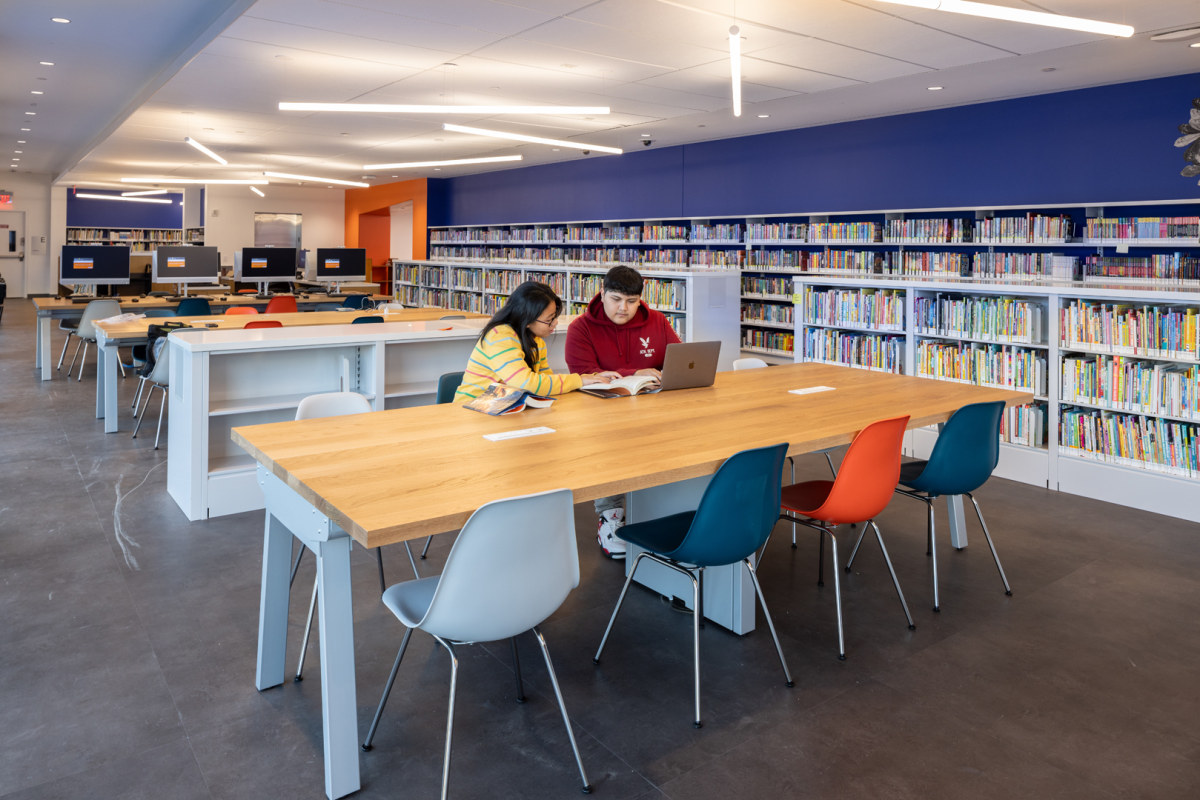 [Photo: Gregg Richards/courtesy Brooklyn Public Library]
In the seven residential floors are 49 affordable housing units. Nine of those were set aside for families coming out of the city's shelter system, and the 40 remaining units (a mix of studios and one, two, and three bedrooms) are for low- and moderate-income residents who earn between 30% and 80% of the area's median income. In an area that has been rapidly gentrifying, the city says that most units will rent for between $500 and $1,000 a month. More than 60,000 people applied for those units. 
The library also includes designated spaces for toddlers, teens, and adults. Johnson emphasizes that library's many resources for residents: not only in terms of educational or reading material, but also providing internet and computer access, career help, homework assistance, and more. The Sunset Park branch will include an outdoor terrace, the largest teen space of any Brooklyn branch, and a community program room that can be used outside of library hours. For the residents living in the building, these resources will be at their doorstep. "We're very excited to welcome our neighbors from upstairs," Johnson says. "It'll be like their living room."
De la Uz adds that she's excited to see how those tenants engage with the library, and that the branch's programming and resources could help people feel less isolated. Both she and Johnson hope to see it replicated, throughout New York and beyond. (A similar project is already in the works in Manhattan's Inwood neighborhood). "There's an urgent need for affordable housing, and there's a lot of underutilized libraries that need modernization anyway," de la Uz says. "Why not kill two birds with one stone?"